8 Times Of The Day To Enjoy Tea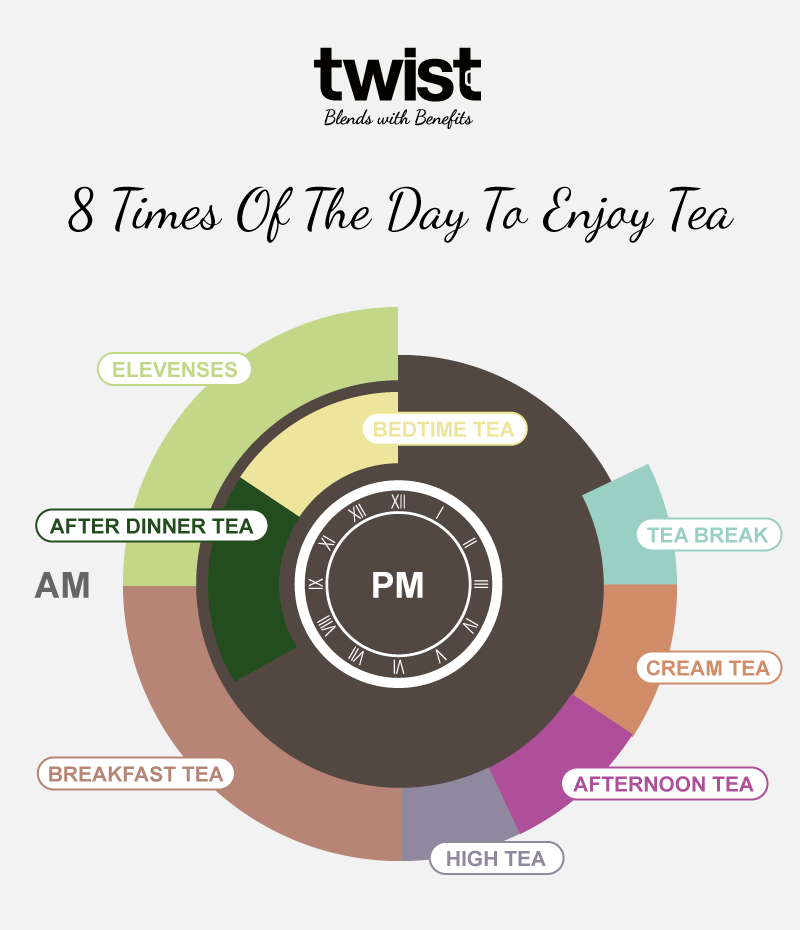 With over 150 million cups of tea drunk in Britain daily, you might be surprised to learn there isn't a simple one set time for tea. We've taken up a Herculean task of untangling the various moments when one can enjoy a cuppa into a loose-defined 8 times for tea in a  day.
Read on for a small insight into a tradition that is considered an inseparable part of British cultural heritage.
Breakfast Tea
The tea to start your day with – English
breakfast tea
is often a blend of Assam, Ceylon and Kenyan black teas although the blends vary.


The practice of drinking tea for breakfast has – somewhat surprisingly – originated in America in the 1840s, as coined by tea merchant Mr Richard Davies who was the first to use the base of Congou (black Chinese Tea) with the addition of Pekoe (black Sri Lankan tea) and Pouchong (light Oolong variety) in his favourite time for tea.


The blend was then carried back to the UK by the Scottish merchants and popularised in England thanks to Queen Victoria who acquired the taste for it at her holiday home of Balmoral, Scotland.
In Ireland, the blend tends to be stronger, thanks to higher Assam content and is enjoyed with plenty of milk, often accompanied with an offering of breakfast treats.


Want to try the breakfast tea Twist Tea style? We love  
Breakfast Boost
with its blend of finest Indian Assam black tea and Sri Lankan black tea with added functional benefit of yerba mate and Siberian ginseng. Thanks to the inclusion of the ginseng, you won't get any jitteriness but at the same time plenty of energy from this wonderful blend.
Elevenses


Made popular recently by hobbits in Lord of the Rings and Hobbit franchises,
elevenses
refers to a time for tea and a light snack taken at eleven in the morning.


More than a snack itself, tea (such as
Refresher Green
) forms an essential part of this brief pause in the whirl of a day, providing a moment of calm and peace. The whole sencha green leaves in our green tea have none of the bitter aftertaste caused by smaller cut leaves and naturally extend the feeling of relaxation even after you've finished your cup.
Elevenses is, in fact, a time for tea so important, the concept has traveled well to other parts of Europe and further out into the world.  In Sweden,
fika
is a mid-morning break, taken with tea or coffee and a slice of cake or a pastry.



Afternoon Tea
Tea-drinking dates back to ancient China – the
afternoon tea
tradition is a rather recent invention by one Anna the seventh Dutchess of Bedford in the year 1840.


Meal times in the 1800s have not been spaced out to her liking and thus she has asked for a tray of cake, bread, butter, jam and tea to be brought to her room for her time for tea, in the late afternoon. Earl of Sandwich had a similar idea of putting a filling between two slices and naturally, the fashion of taking an afternoon tea took the society by a storm from then on.


If you'd like to start your own tradition, try
Raspberry Choc Kiss
– with pieces of cocoa, tart raspberries and fragrant rose petals, indulgent and delicious, yet with no sugar or sweeteners. A blend full of exquisite natural ingredients, adding a luxury feel to any afternoon time for tea.
Cream Tea


According to a legend, the origins of
cream tea
can be traced to Tavistock Abbey in Devon. After being plundered and badly damaged by Vikings in the 11th century, the monks have fed the labourers restoring it a rich diet of  bread with clotted cream and strawberry preserve during their time for tea.
The counties of Somerset, Cornwall and Sussex will all contest this origins story as they all claim the tradition started with them.


Modern-day cream tea is often considered an institution with standard rules: the cream is always clotted, the jam (or preserve) better be strawberry and the scones must be freshly made. The pot of tea is hot and plentiful and additional cakes may be offered, such as Victoria Sponge.


The great Cornwall – Devon debate is over the order in which you assemble your scones: cream then jam or the other way around?
Whichever you prefer, cream tea is a wonderful summer tradition, found all across the West Country. For a delicious Twist Tea variation, try
Cream Tea
, a beautifully sweet Sri Lankan black tea with fruity notes. The perfect accompaniment to a traditional cream tea, or whenever you'd like a time for tea.


High tea


After the industrial revolution, afternoon tea signified a social event for upper classes, while traditional
high tea
was a necessary time for tea and a full meal at the end of a day – to some extent this version is still popular in Scotland and parts of Northern England.


The clever blend of Sri Lankan black tea with functional gingko biloba to boost mental performance and complemented by notes of bergamot and orange blossom,
Earl Great
goes well with any meal at high tea.


Tea Break


The humble
tea break
is a firmly established time for tea in the British history, beginning in the 1780s during the height of the industrial expansion.


The workers in factories often put in excruciatingly long hours and sustained themselves with strong sugary tea as a stimulant of choice. The tea was cheap, easy to prepare and suited a time for tea during the short breaks allowed.


Such was the passion for tea breaks that in WWII, all British armoured vehicles have been equipped with a boiling vessel so that the team can enjoy a fresh cup of tea.


Nowadays, office planners have to consider including a breakout area, for that all important time for tea – a cuppa to collect your thoughts and socialise with your colleagues. We like to chat over a cup of naughty-and-nice
Mint Humbug
, a caffeine-free blend of rooibos and mint, perfect for those moments when we crave a sweet treat. Full of natural ingredients, with no sugar or artificial sweeteners, this is the one pud we can't get enough.
After-dinner tea


In Spain, sobremesa is something to delight in and enjoy. While literal translation means 'over the table' the full definition is a bit longer. It's a time after a meal, spent in conversation, socialising, relaxing and digesting.


Often accompanied by further drinks, one can take pleasure in light herbal tea infusion, such as our
After Eat
blend with refreshing peppermint and delicious cocoa – you'll give your digestion a helping hand whilst providing you with a satisfying 'dessert' option. All natural cocoa makes this blend sweet and satisfying without added sugar or sweeteners, perfect for the after-dinner time for tea.


Bedtime tea
A good sleep is essential for our health. The studies have shown the importance of winding down after a day by practising simple evening rituals that will aid relaxation and contentment. One of these rituals is mindfully making time for tea – the preparation and enjoyment of a soothing cup of tea.


Whilst the green tea has been enjoying a bit of a spotlight thanks to the presence of L-theanine – that can help with focus and cognitive function- we are big fans of
Chamomile Yawn
, the soothing blend of whole chamomile heads, lemon balm, rose, lavender and valerian, the functional herbs proven to help you unwind and relax.
Whether you take yours with biscuits, cakes, between breakfast and lunch or post-dinner, we have a tea to suit every time for tea, mood and moment. Furthermore, for a taste of something completely unique, get in touch and we will prepare a blend according to your requests.
YOU MIGHT ALSO LIKE THESE